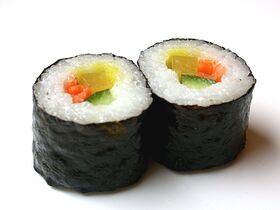 Sushi
 is a Japanese food consisting of cooked vinegared rice (shari) combined with other ingredients (neta), usually raw fish or other seafood.
This food is Mentioned by Leopold in hermannfegelein31's AGK series.
It only appears in Angry German Kid RPG version 1.8.
Ad blocker interference detected!
Wikia is a free-to-use site that makes money from advertising. We have a modified experience for viewers using ad blockers

Wikia is not accessible if you've made further modifications. Remove the custom ad blocker rule(s) and the page will load as expected.