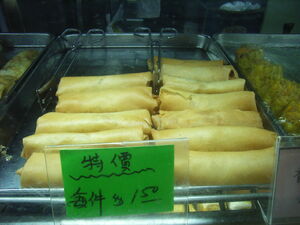 Spring rolls
 are a large variety of filled, rolled appetizers. The name is a literal translation of the Chinese 
chūn juǎn
 (春卷 'spring roll') found in East Asian and Southeast Asian cuisine. The kind of wrapper, fillings, and cooking technique used, as well as the name, vary considerably within this large area.
They also appear in hermannfegelein31's AGK series.
It will be added in version 1.8 of Angry German Kid RPG.
Ad blocker interference detected!
Wikia is a free-to-use site that makes money from advertising. We have a modified experience for viewers using ad blockers

Wikia is not accessible if you've made further modifications. Remove the custom ad blocker rule(s) and the page will load as expected.