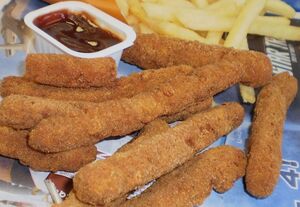 BK Chicken Fries
 were a fried chicken product sold by the international fast-food restaurant chain 
Burger King
. According to Burger King marketing, it was one of their larger, adult oriented products made with higher quality ingredients than their "standard" menu items.
BK Chicken Fries are also seen in AGK parodies.
They are only available in version 1.8 of Angry German Kid RPG.
Ad blocker interference detected!
Wikia is a free-to-use site that makes money from advertising. We have a modified experience for viewers using ad blockers

Wikia is not accessible if you've made further modifications. Remove the custom ad blocker rule(s) and the page will load as expected.