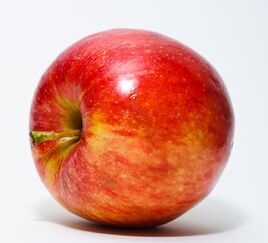 The 
Apple
 is the pomaceous fruit of the apple tree, species 
Malus domestica
 in the rose family (Rosaceae). It is one of the most widely cultivated tree fruits, and the most widely known of the many members of genus Malus that are used by humans. Apples grow on small, deciduous trees.
Apples also appear in AGK parodies.
Ad blocker interference detected!
Wikia is a free-to-use site that makes money from advertising. We have a modified experience for viewers using ad blockers

Wikia is not accessible if you've made further modifications. Remove the custom ad blocker rule(s) and the page will load as expected.